Farm Weddings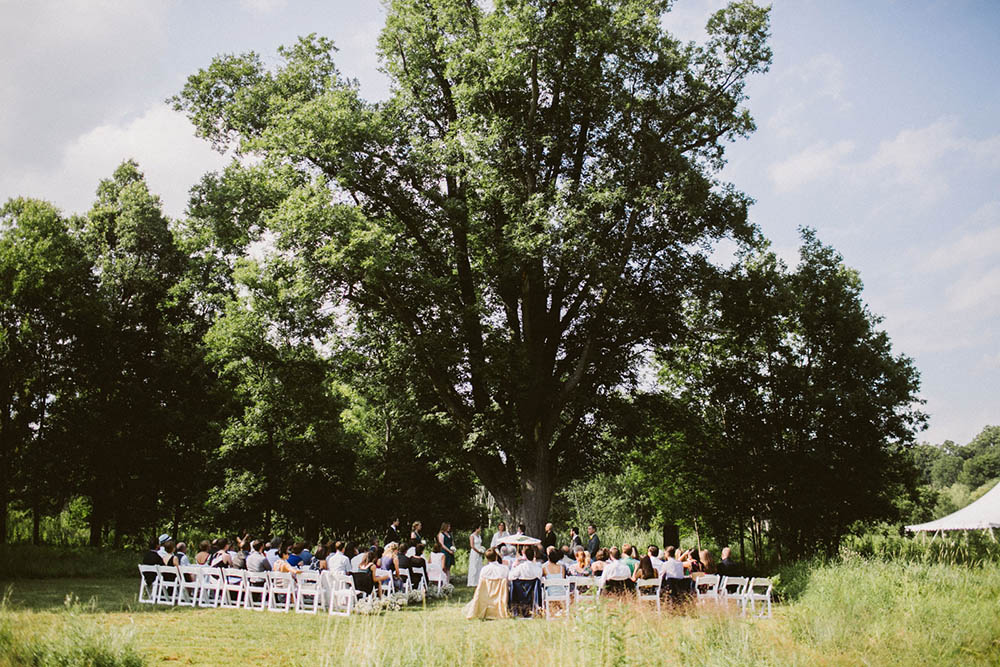 Pricing & What We Provide
Weddings at Blooming Hill Farm are priced as follows:
- Flat Rate Venue Fee -

$3,000

- Price per Guest -

menu starting at $105
beverage packages starting $30

- price may increase based on your menu & beverage package selections -

- Administrative & Planning Fee -

3%
- based on the pre-tax per-guest total -

- Staffing Fee -

18%
- also based on the pre-tax per-guest total -

Included in our price

Full use of the venue

Use of all our existing infrastructure (buildings, restrooms, dinner chairs & tables, plateware, silverware, linens, glassware, etc.)

--

Full service catering

Featuring a two-part seasonal menu with cocktail hour passed appetizers & hors d'oeuvres, followed by a reception dinner in your chosen format.
All-inclusive customizable beverage packages ranging from basic wine & beer to full bar offerings featuring local beer, wine & spirits.
All fees for food & beverage staff, setup, cleanup, parking & general event staff are included.

--

Event planning services

We will coordinate booking of all necessary rentals and work with you directly to coordinate vendor & lodgin booking as well as day of scheduling & event coordination.

--

Outside costs

Outside Rentals including, but not limited to

--

- Wedding Tents -

- Tent Lighting -

- Dancefloors -

- Specialty Linens and Glassware -

**

To accommodate groups larger than 70 guests a Wedding tent rental will be required. We will coordinate the booking of all tent and related rentals with our preferred vendors.

**

Extras

We can offer the following for an additional fee per guest

--

- Coffee & Tea Service -

- Custom Desserts -

- Take Away Gift Baskets & Favors -

- Cake Cutting and outside dessert cutting & plating -

- Bonfire with S'mores -
The Food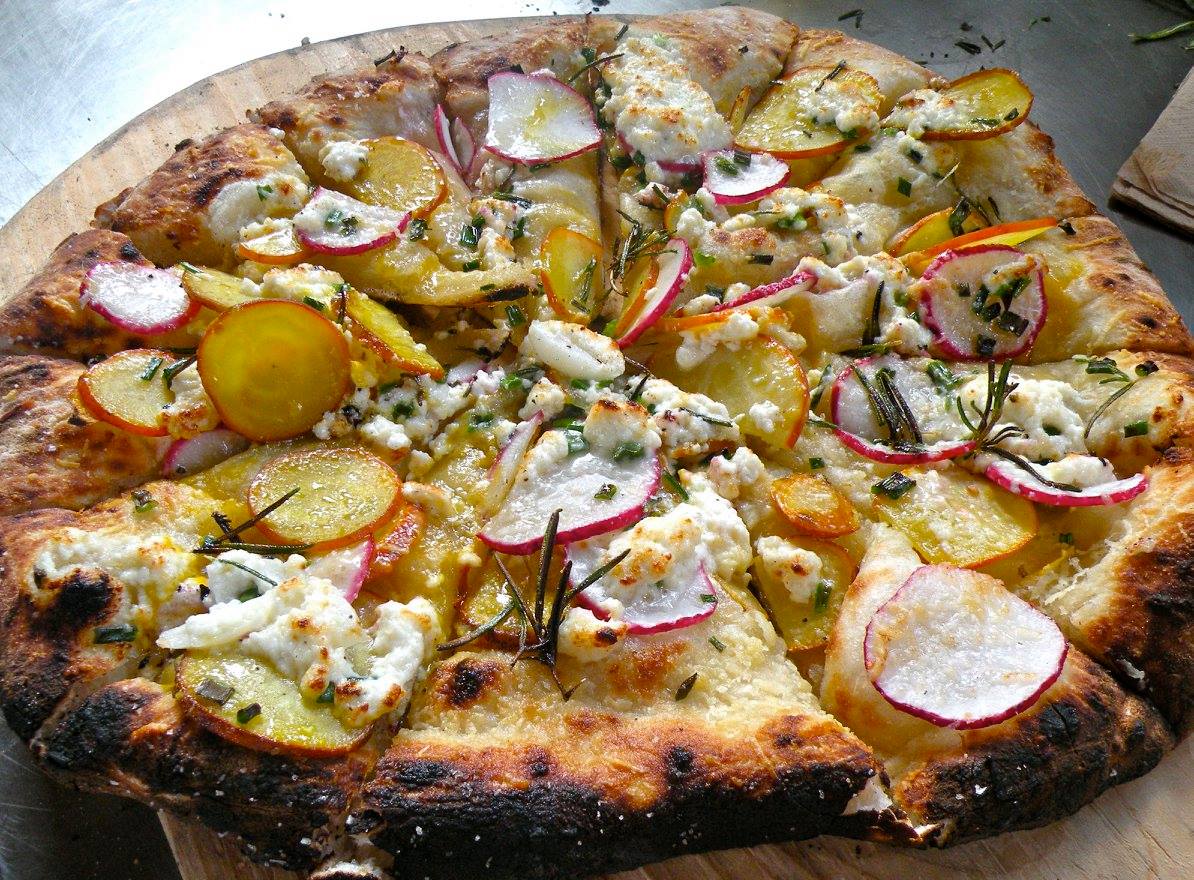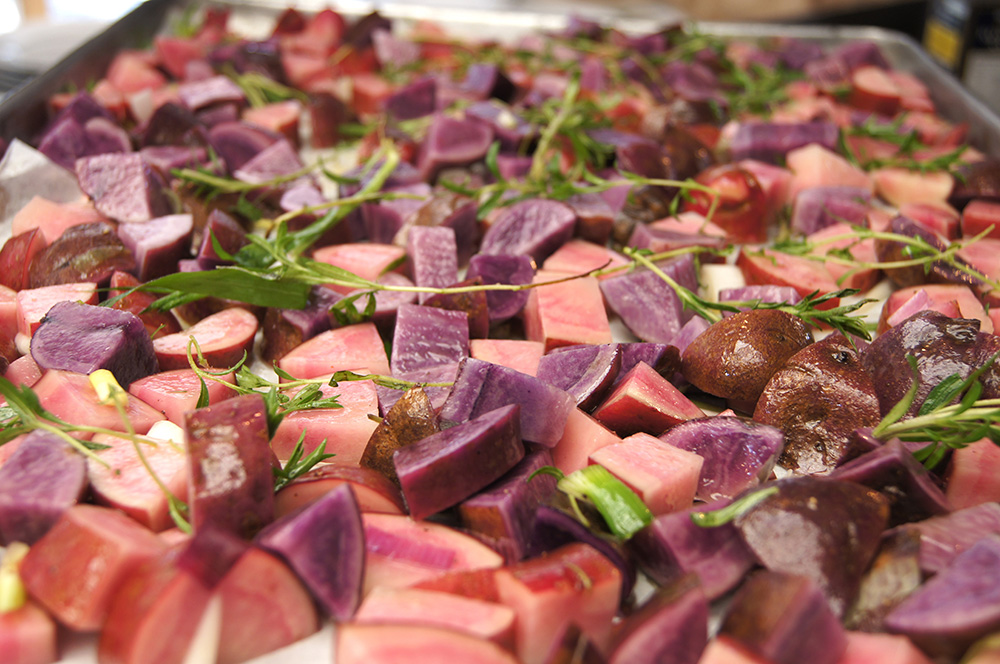 We want our food to be one of the centerpieces of your event.
We work closely with you in creating a seasonal menu based around what we have available on the farm during the time of year surrounding your wedding.

Any ingredients that can't be sourced from the farm directly (meat and fish for example) will always be sourced from the highest quality purveyors, locally and organically if possible.
Menus & Dining Format
buffet style
from $105 per person
family style
from $115 per person
plated
from $135 per person
The pricing for each dinner format also includes passed appetizers and hors d'oeuvres during the cocktail hour portion of the wedding.
Sample Menus
Click below to take a look at a sample menu for each season.


Beverage Offerings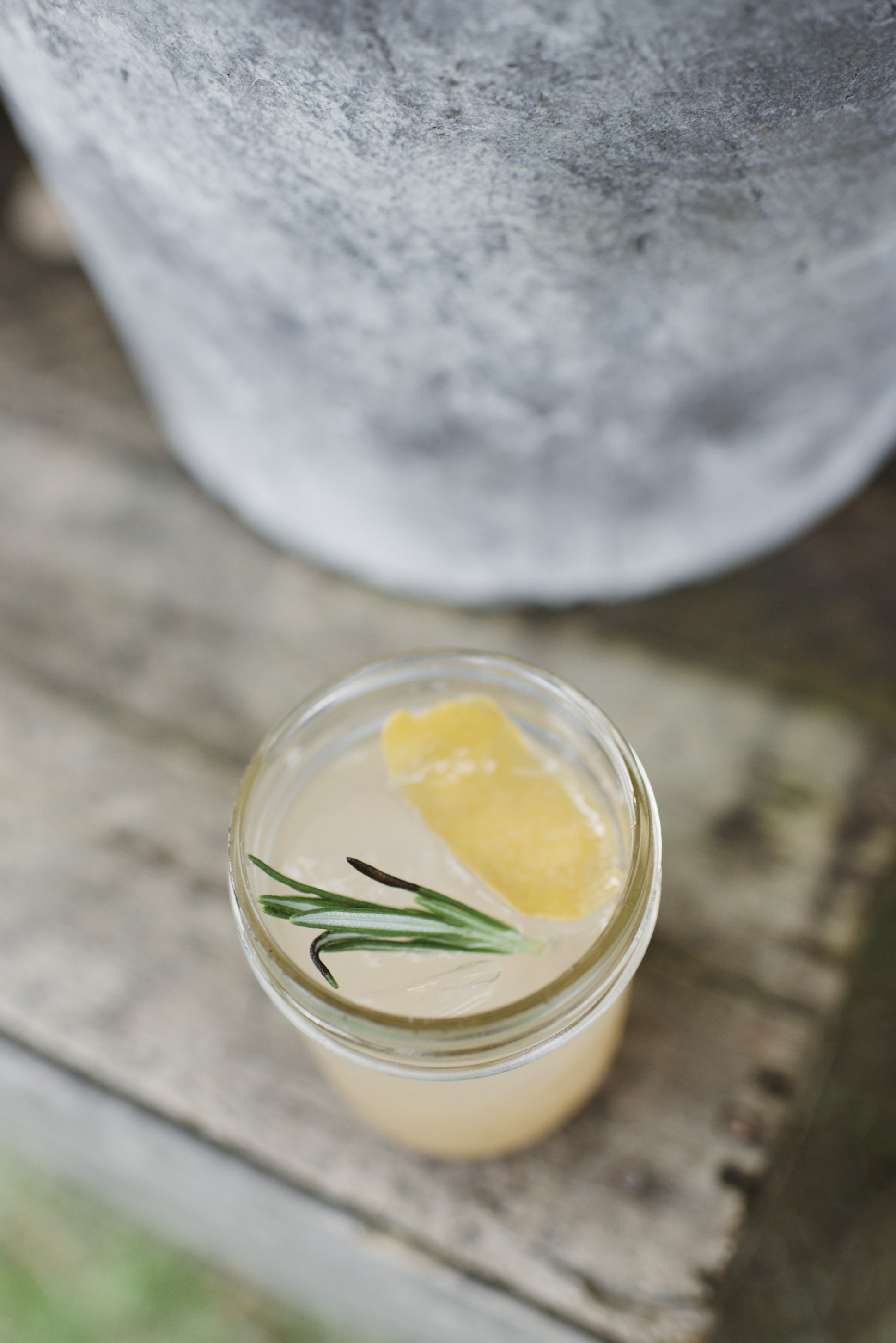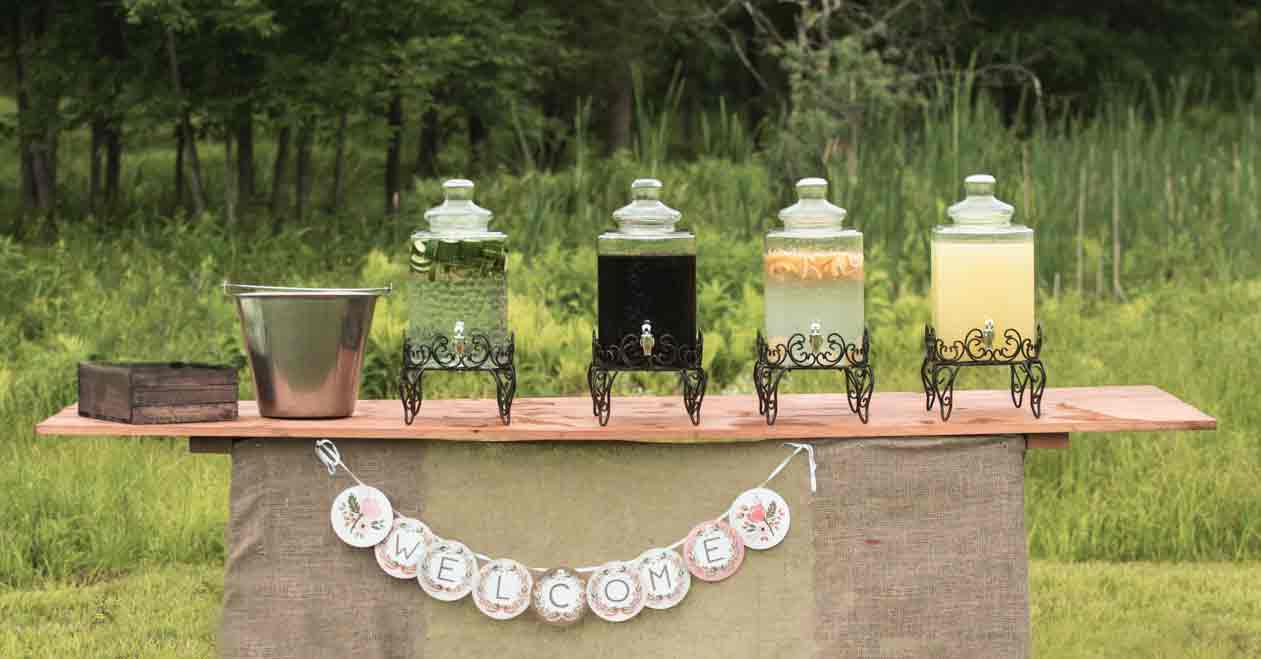 Package Options
wine & beer
from $30 per person
standard full bar
from $40 per person
premium full bar
from $55 per person
Non-alcoholic beverages, mixers, garnish, ice and any other necessary beverage accessories are included with each package.

All package pricing is based on five hours of open bar service.

We stock a selection of locally produced and brand-name products. We can source specific brands outside of our normal stock, but this may affect your package pricing.

Custom craft cocktails are included in our full bar packages and can be added on to a wine & beer package.
Event Staff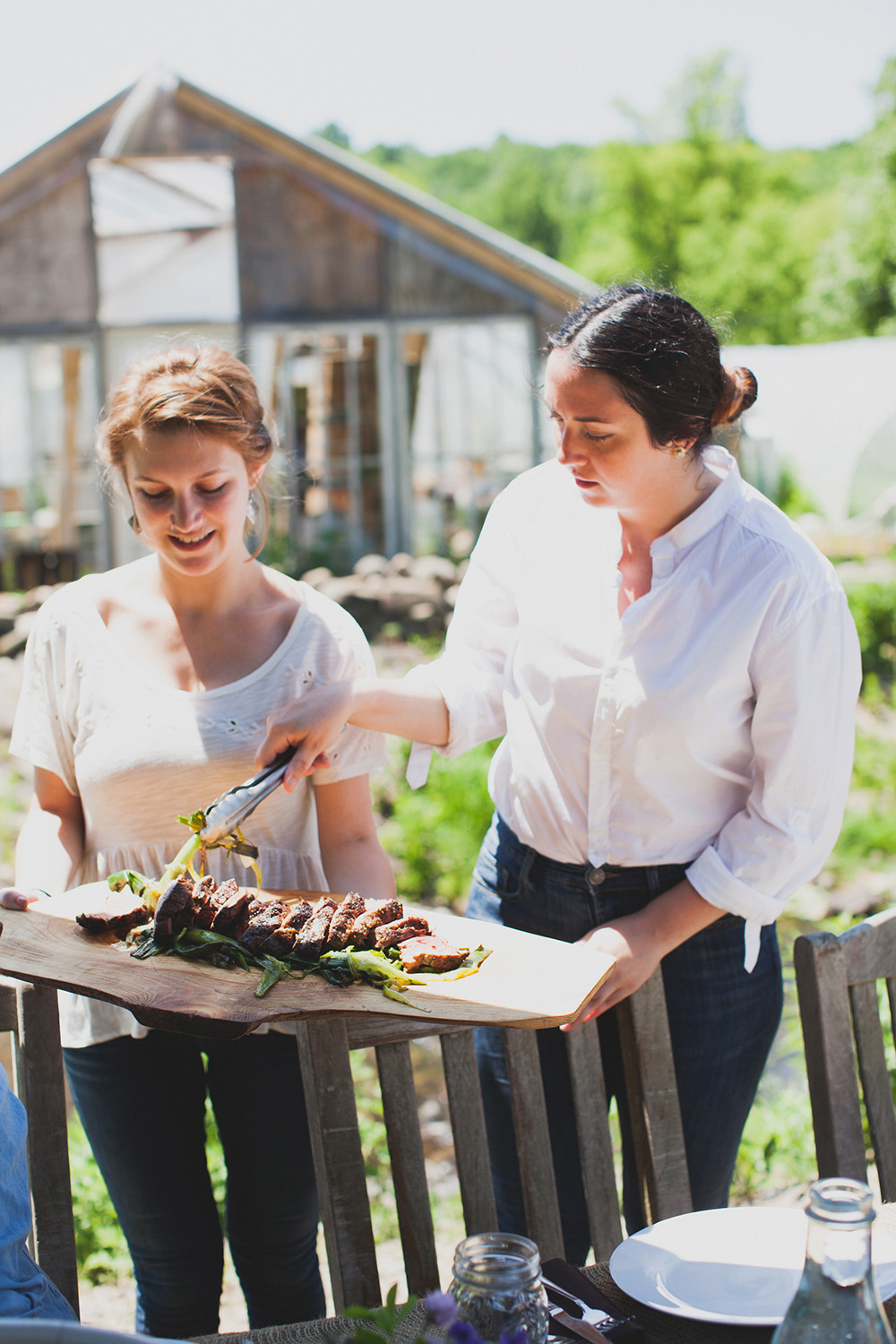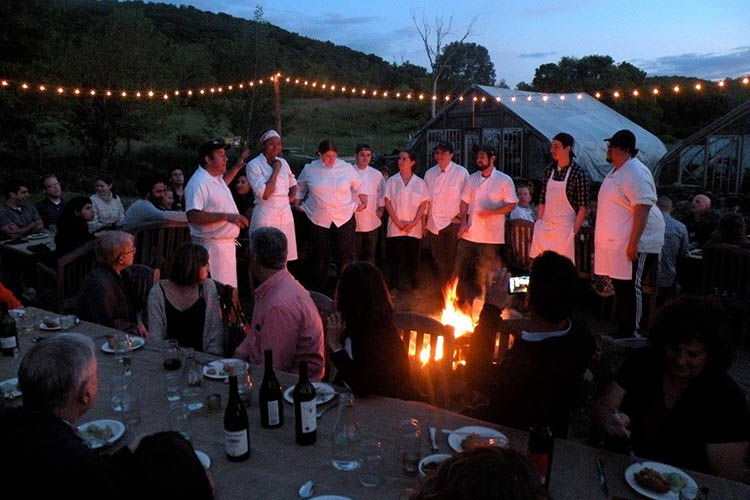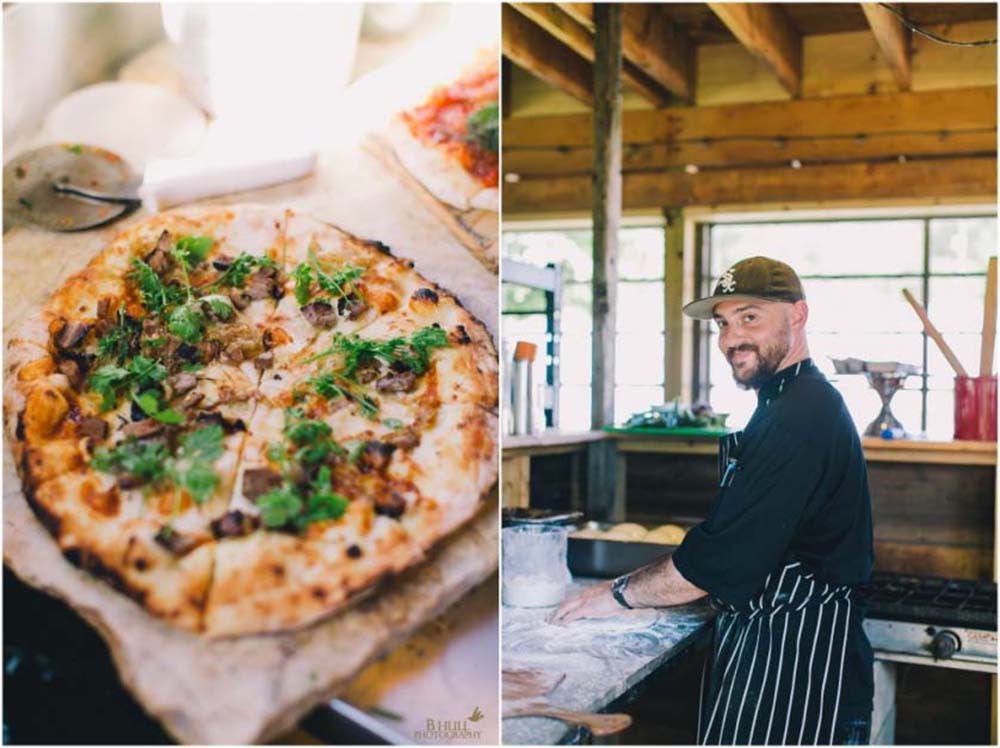 An 18% staffing fee is assessed based on your pre-tax food & beverage total.
This fee covers all event staff - service staff, bartenders, catering & kitchen staff, and general staff for setup, breakdown and cleanup. A standard service gratuity is included in this fee. Any additional gratuity for staff is left at your discretion.

For larger events, parking area attendants will also be included in this fee.
Event Format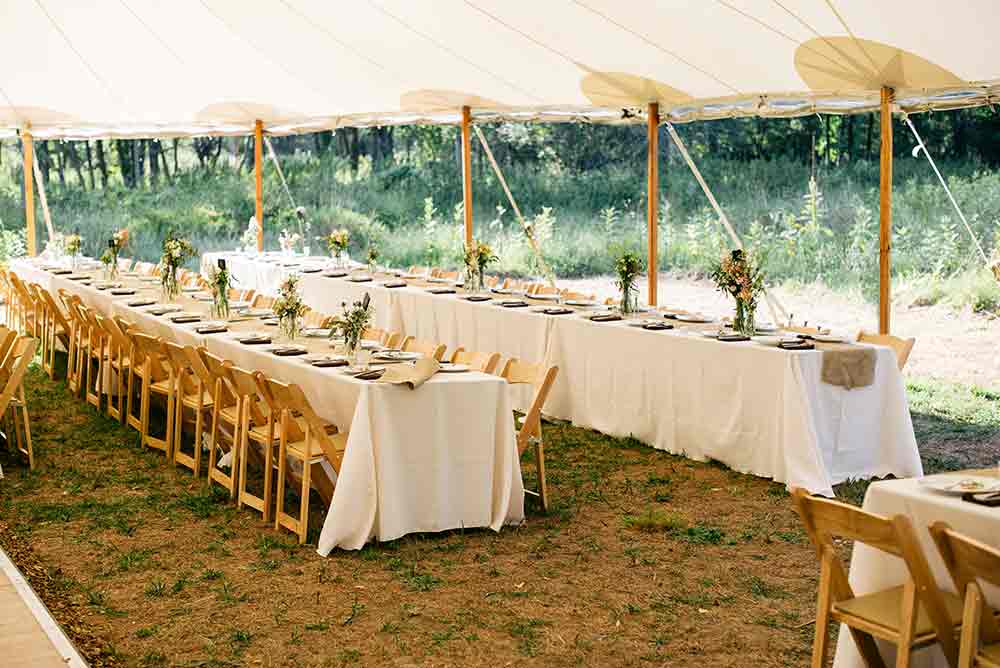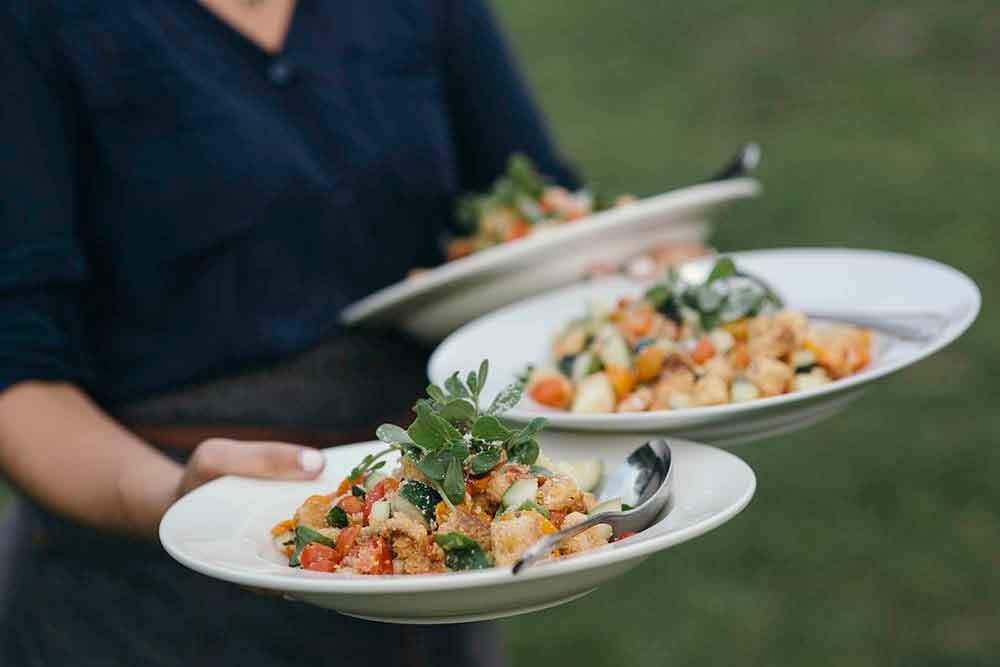 We will work closely with you to develop your wedding's concept and format.
Ceremony spaces on the property are available for your use without any additional fee. The normal time slot for a wedding, with or without a ceremony is 4 - 10pm. This does not consider any extra time needed for setup and breakdown.

We will coordinate timing for rental and vendor setup prior to the event, and time can be scheduled for any of your own supply drop-off, deocrating and general preparation.
Weddings and all other events must end at 10pm, this time is set by our town code, and unfortunately cannot be extened. A reasonable amount of time for vendor breakdown and guest departure will be provided after your event's conclusion.
Rentals and Vendors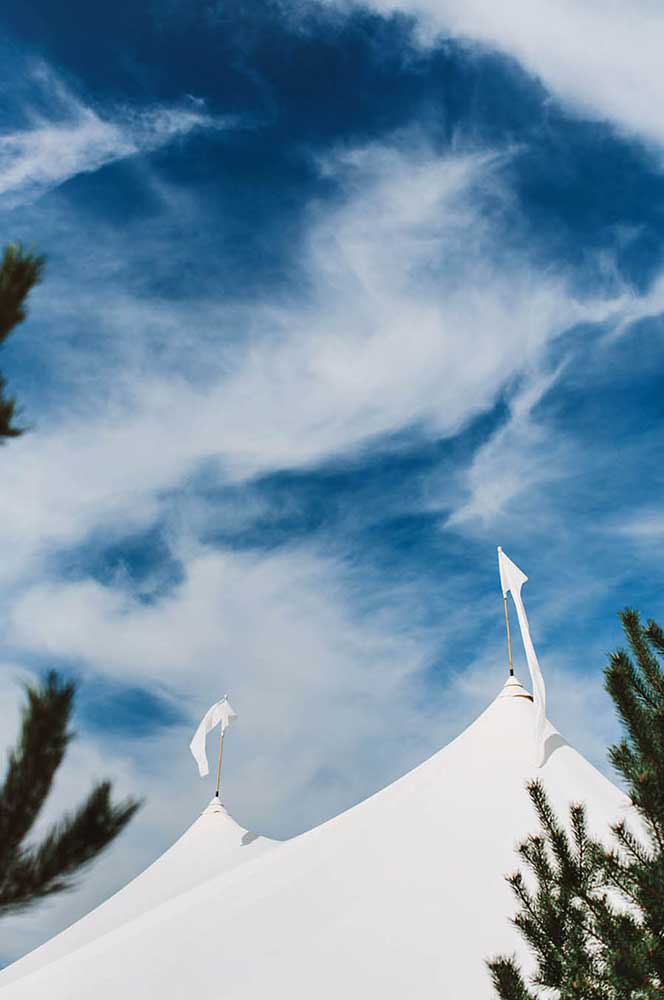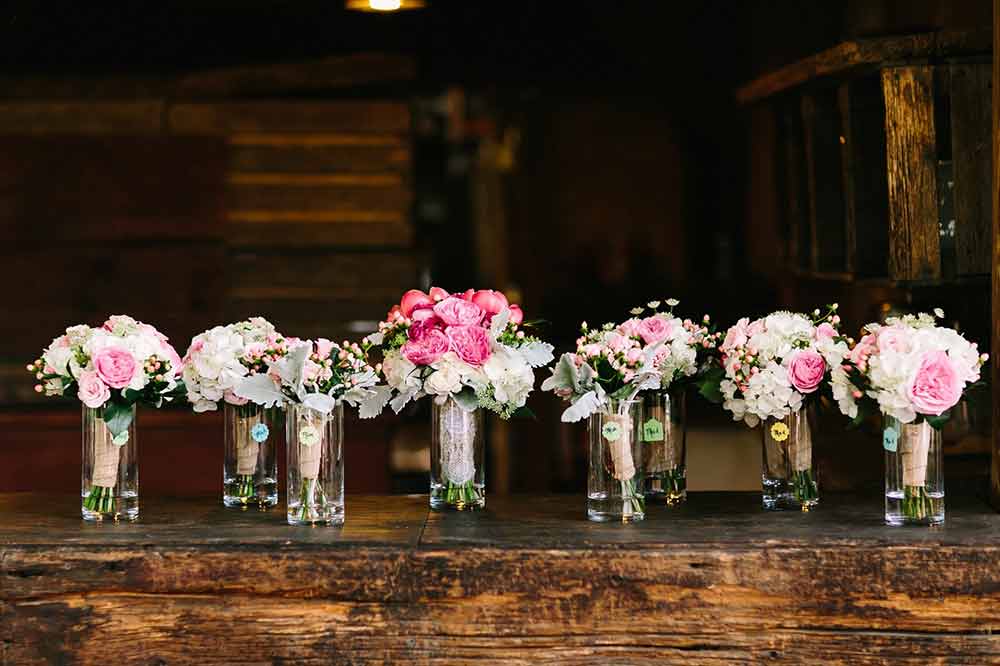 We will coordinate and place rental orders necessary for your wedding, and work directly with you in you selection of tents, flooring, lighting and any additional items you may want to rent.
A Wedding tent with tent lighting is required for larger groups.

A dance floor and stage are common but not reuqired rentals. Further rentals to consider would be specialty glassware, specialty linens, specialty lighting, fans and audio equipment.
We do not require the use of specific outside vendors, but we do have a preferred vendor list.
The only service we disallow is outside caterers.
We are the exclusive caterer to all of our events and the cost is built into our pricing model.

We will gladly coordinate directly with outside day-of and full-service planners to help the event run and as smoothly as possible.
Sample Costing
Below is a sample cost breakdown for a 125 person wedding.
This estimate does not include any additional outside services such as entertainment, photographer, florist, etc.
Item
Amount
Total Cost
Family Style Menu
125 Guests @ 115$ per guest
$13,125
Wine & Beer Package
125 Guests @ 30$ per guest
$3,750
Staffing Fee (not taxed)
18%
$3,037.50
Venue Fee (not taxed)
$3,000 flat fee
$3,000
Admin Fee (not taxed)
3%
$506.25
Sales Tax
8.125%
$1,371.09
Our total - $24,789.84
Item
Cost
Tent Rental - 40 x 60
$1,700
Tent Walls
$250
Tent Lighting Package
$250
Electric, Misc.
$150
Dance Floor Rental - 16 x 20
$615
Misc. Rentals
$500
Delivery Charge
$100
Damage Insurance (optional)
$500
Sales Tax
$240.91
Rental total
$3,805.91
Total Estimate
$28,595.75
Booking and Payment Schedule
Before an event is booked a contract and full estimate will be created, and once finalized an initial deposit will be taken. Following the initial deposit a payment schedule will be established.
Questions and Visits
Feel free to contact us with any questions. Our farm stand and cafe are open to the public every Saturday and Sunday from 10am - 2pm. We encourage you to come visit the farm in person, if you would like a guided tour of the property please get in touch to schedule an appointment.